Korean automaker reduces wastewater sludge with expert support from Nalco Water
BACKGROUND
When an amendment to Korean national law prohibited waste discharge to seawater, sludge waste disposal costs increased significantly for one Korean automaker. The plant's paint shop, which manages its own sub wastewater treatment facility, was seeing the impact of these cost overruns on their operations budget.
In addition, Environmental, Social and Governance (ESG) considerations have become a management priority in the automotive market. Waste reduction could contribute favorably to the company's environmental goals and support their continued investment in the company's future. Overall, the plant sought ways to reduce sludge disposal, expense, overall chemical spend for wastewater treatment and operating time.
The incumbent supplier used commodity chemicals, which are known to be inefficient at reducing sludge and use a significant amount of chemistry albeit at a low cost per kilogram. A 60 m3/hr (15,850 gallons/hr) wastewater stream came from the paint shop to a reaction tank. The wastewater was dosed with commodity pH-adjustment chemistries, then floc was created by adding a flocculant before flowing to the dissolved air flotation (DAF) unit. Here, the sludge and water were separated before flowing to an aeration tank for biological treatment. Finally, the wastewater flowed to the sedimentation tank before release to the final wastewater treatment facility.
SOLUTION
A thorough site survey, led by a Nalco Water industrial technical consultant, was completed to assess the current wastewater treatment program and customer expectations regarding reduction of sludge, disposal costs and chemical spend.
In response to the audit's findings, the team set up a trial plan, including the necessary chemical samples and on-site technical support in case of any issues. The wastewater was dosed with pH-adjustment chemistries, plus an organic coagulant to improve separation. The Nalco Water team added a high-performance flocculant before flowing to the DAF unit. The rest of the process remained the same.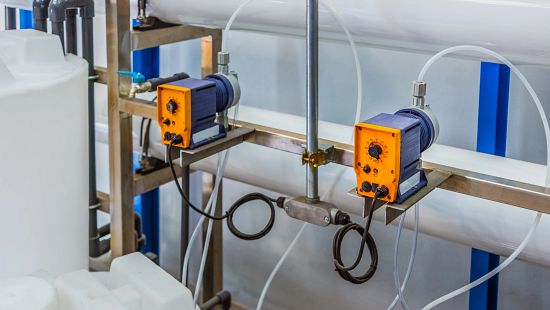 RESULTS
The updated program lessened the amount of pH adjustment and flocculant required, which reduced the overall chemical spend by more than USD $29,000 per year. Employee safety was also improved through a reduction in chemical handling, inventory management and personnel exposure. Further, the new program reduced sludge volumes by 528 metric tons, saving the customer more than USD $90,800 in disposal costs. The reduced amount of sludge also saved labor time at the centrifuge process.
CONCLUSION
Nalco Water proved, with our technical expertise, to be a strong partner in helping the customer meet their site goals for cost reduction and corporate ESG improvement. Because of cost reduction in wastewater, the customer was able to meet their operational budget targets and help maintain their competitive edge in the tight automotive sales market. Sludge output volume reduction not only saves on current sludge disposal costs but also puts the customer in an advantageous position to defend against ever-increasing waste disposal costs in the future.

Reduced sludge volume by
528 metric tons per year
Reduced chemical spend by
USD $29,400 per year
Improved employee safety via reduced chemical handling and exposure
Related Success Stories
This is a carousel. Use Next and Previous buttons to navigate, or jump to a slide with the slide dots.
No related success stories were found.