One Method Can Revolutionize Disinfectant Validation
In the absence of a single global standard for the validation of disinfectant efficacy in pharmaceutical cleanrooms, Ecolab Life Sciences have consulted with renowned industry experts to create one.
In his article on
Cleanroom Technology
(November 2019), Tim Sandle explains why disinfectant efficacy matters and how global differences in efficacy tests is causing both confusion and inefficiencies across the industry.
He concludes that the Ecolab One Method Validex Program provides clear, sensible and reproducible criteria for the evaluation of disinfectants for use in pharmaceutical cleanrooms. The program is designed to ensure a method and acceptance criteria appropriate to the industry globally, alongside a comprehensive data set on relevant cleanroom microflora and surfaces. The Validex approach reduces complexity and helps pharmaceutical manufacturers gain greater efficiency by giving specific guidance around cleanroom disinfectant validation processes.
With the Validex Program, Ecolab's Global Technical Consultants can help customers navigate through disinfectant efficacy testing, with accredited laboratories. This helps meet current regulatory expectations and, more importantly, comply with the standards required for cleanroom decontamination.
Watch the video below or download our infographic to learn more about the Ecolab Validex program.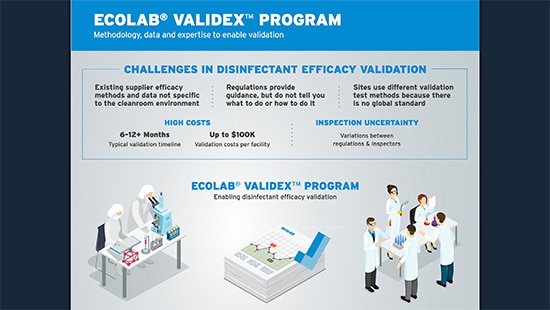 Related cleanroom Articles